Enroll and/or Refer a friend and get yourself a chance to Win:
Raffle Draw: March 17, 2016
Major Prize: Two Samsung Galaxy Tablet
The 7″ LCD screen with 1024 x 600 resolution is perfectly sized for your on-the-go lifestyle
1.2 GHz Marvell PXA986 dual-core processor and 1GB of RAM powers your device to enjoy videos, games, apps and web surfing without limits
Android 4.2 Jellybean operating system provides access to hundreds of thousands of apps, movies, games, on an easy-to-use interface
8GB built-in storage with micro SD card slot lets you store all your movies, music, and apps, and enjoy expanded storage by up to 32GB with a micro SD card
2MP rear camera with smart features lets you capture pictures of moments you'll want to remember, or video chat with loved ones
802.11 b/g/n WLAN lets you connect internet-ready devices to a wireless network
Qualifications:
Enrolees/students of TriCounty Driving Academy from February 2015 to February 2016 = 1 coupon
Students/graduates of TriCounty since Feb. 2013 up to January 2016 who Referred a friend/family members = 1 coupon (Max of 3 coupons).
Promotion is valid for Orangeville and Erin locations.
Raffle Draw will be on March 17, 2016.
Qualification is subject to some restrictions. Call Rex for more Info.
2nd Year Anniversary Raffle Draw Winners: (February 2015)
Winners: (Pictures to Follow)
Jacob Green -New IpadMini
Kole Shawcross – $50 Gift Card
Harleen Basra – $50 Gift Card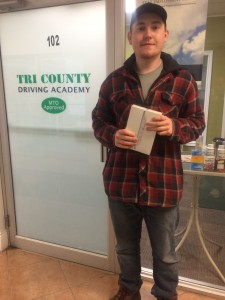 Jacob Green receiving his New Ipad Mini
1st Year Anniversary Raffle Draw Winners: (February 2014)